Chastity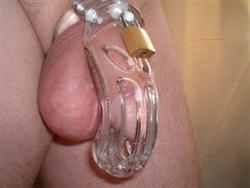 Erections Demolished!
Mistress offers a CHASTITY key holding service for those naughty boys who need ME to decide when they can masturbate or who cannot be trusted when not in my presence! I will hold the keys to your sexual gratification you naughty slave!
You will have to purchase your own device and have it sent to my address or bring it to me whereupon I can hold ALL the keys. If you already own one however, you may arrange an appointment for a session with me and of course, leave me with the keys! There will be no cheating under my regime!
You will also have to sign my chastity contract and will be beholden to it until the period of time we have arranged is up.
If you are not having a session with me there will be a small monthly fee for key holding. You will be allowed to relieve yourself only when in MY presence slave and a small masturbation fee will be required upon your release dates!
Here are some useful websites for purchasing your device:-
For the bigger man!


The Curve is usually the best restraint for a larger male however, there are some devices made to measure and all types of cages can be found below. Best to read all about them and chose one to suit you!



www.chastityplay.co.uk
www.neosteel.com
www.extremerestraints.com
www.tollyboy.com

For the smaller worms!


The CB2000 or 3000 will suffice. These can be found at most fetish shops.





Please contact me respectfully for further details.