Sessions
Mondays - Fridays 10-10 Saturdays 10-6
I session as per the hours above however, any morning appointments must be made in advance, you cannot expect me to be ready and waiting as like yourself, I have a normal life to lead too and this is my escape as well as yours!
Don't expect to be greeted with a snarl as I am not that sort of Mistress, I enjoy having fun times with my slaves although I can adapt to most role plays I never take life too seriously! This is why you mostly see me smiling...
I am a very seductive mistress who enjoys total power exchange, I am versatile, intelligent with an over-active imagination and I love being creative with all my subjects. I am aroused most when I take you just that step further in your journey of discovery. I enjoy all aspects of BDSM play however I will completely enthrall your mind and you will become spellbound by my persona! Whether you are experienced or novice I can ensure you a fulfilling erotic experience.
I do not make consecutive appointments and always leave enough time to compose myself, clean or tidy the dungeon and acquaint myself with my next devotee's appointment and the information you supplied is valuable.
I am very perceptive but I do expect my subjects to enjoy verbal interaction during our session, if you are shy or a quiet devotee then you must tell me in our consultation as quietness and non interaction can be sometimes considered as your not enjoying the session, which can make it difficult for your mistress. Then we can conduct the session as silent unless spoken to, either is accepted.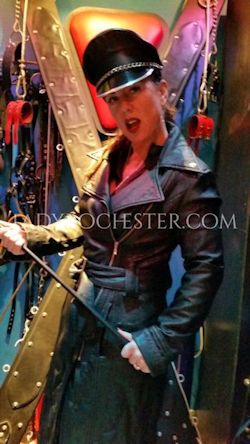 To see more pictures and videos of Lady Rochester and her slaves visit the members area