Sessions
Mondays - Fridays 12-8 Saturdays 12-6
I am a very seductive mistress who enjoys total power exchange, I am versatile, intelligent with an over-active imagination and I love being creative with all my subjects. I am aroused most when I take you just that step further in your journey of discovery. I enjoy all aspects of BDSM play however I will completely enthrall your mind and you will become spellbound by my persona! Whether you are experienced or novice I can ensure you a fulfilling erotic experience.
If you would like to serve Mistress for a whole day I can offer you training as my Maid or Slave Boy. I can only offer you this once you have visited me for at least two sessions so that I can assess you and get acquainted with you. You will be ordered to perform domestic duties for me to help me in my busy lifestyle and you may be included in some sessions, whatever Mistress wants of you! I will not be able to give you my undivided attention the whole time. If you should require a regular Mistress/Slave session during the day then the normal fee as extra shall apply. Discretion is always my key word so if you do not wish to meet anybody else apart from me during that day in my chambers, please request this. Fees
I insist that all new clients on their first session with me fill out my application form and email this to me in good time prior to your appointment. If you are unable to email this to me then please bring it with you completed this will save time on our consultation.
I also do not make consecutive appointments and always leave enough time to compose myself, clean or tidy the dungeon and acquaint myself with my next devotee's appointment and the information you supplied is valuable.
I am very perceptive but I do expect my subjects to enjoy verbal interaction during our session, if you are shy or a quiet devotee then you must tell me in our consultation as quietness and non interaction can be sometimes considered as your not enjoying the session, which can make it difficult for your mistress. Then we can conduct the session as silent unless spoken to, either is accepted.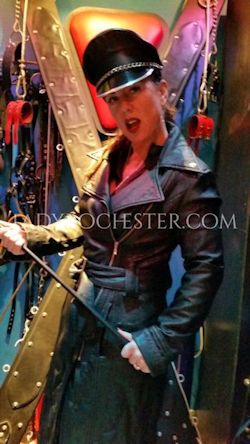 To see more pictures and videos of Lady Rochester and her slaves visit the members area