My Assistants
Mistress V Hurtmore
Resident Guest Domme
Mistress Hurtmore was introduced to me in early 2009 as a lifestyle Mistress who felt exhilarated whenever she practised her skills in the dominant arts. More importantly, as so many are just in the scene for the money, she had become a Mistress for fun and not just for profit. So, it was obvious to me that through our experiences we were very much in tune with each other.
In early 2010 I introduced her to many slaves and servants' in my inner circle. This was a great success and from then on we have joined forces to allow you to serve two beautiful, truly superior Mistresses. So, if you believe that you are worthy and capable of this wonderful experience you should apply to serve us... But be warned its Double Trouble in its entirety!
Mistress Hurtmore is available by prior appointment only weekday evenings and Saturdays.
WATCHING SERVICE - Mz Dark Angel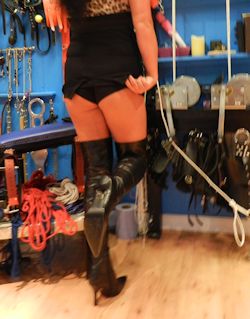 I also now have a lovely lady available to WATCH your session for a small extra fee and if you are lucky you might even get her joining in but PLEASE NOTE she is not a sub so DO NOT expect anything other than a very humiliating experience of somebody watching your session... enquire respectfully for details!